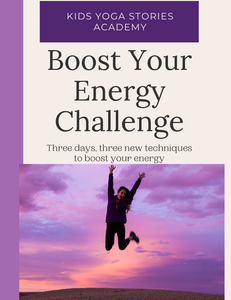 Boost Your Energy Challenge - FREE
3 Days + 3 Simple Yet Powerful Exercises to Boost Your Vitality in Challenging Times
We live busy lives.
There are loads of demands on us all, with little time to decompress. We are called upon to stretch outside what we thought possible, but we can do this. We can turn to these ancient yoga and mindfulness practices from thousands of years ago to increase our stamina and vitality. 
Because ultimately, we have to look after ourselves so that we can look after others. 
Join us 3 days of energy boosting and burnout busting exercises that will help us show up stronger for ourselves and everyone around us!
Sign up and join us for FREE!
SKU: ENERGYCHAL-CRS-EN
Author:
Illustrator:
Page Count:
Binding:
Trim Size:
Edition:
Color:
Publication Date:

---
We Also Recommend
challenge, Course, energy, For Grown-Ups, Format_Digital Download, Language_English,